Cold Brew Bar Delivery Service
Nitro Cold Brew Keg with All the Accessories
Enjoy a keg of fresh cold brew coffee on tap at your upcoming event. Our cold brew bar is more convenient (and more affordable) than a cart or coffee truck. We'll deliver a keg of delicious cold brew in a kegerator with all the accoutrements you need including cups, creamers, syrups, and other coffee essentials. Enjoy the coffee at your own pace and we'll pick it up later. Our cold brew bar is great for staff appreciation events, weddings, special meetings, and more. First Tracks Cold Brew has been enjoyed by countless Denver area schools, accounting firms, camps and offices, trade shows, marketing events, and resident appreciation events. Watch as your guests' eyes light up each time they pour a glass of creamy, smooth nitro cold brew.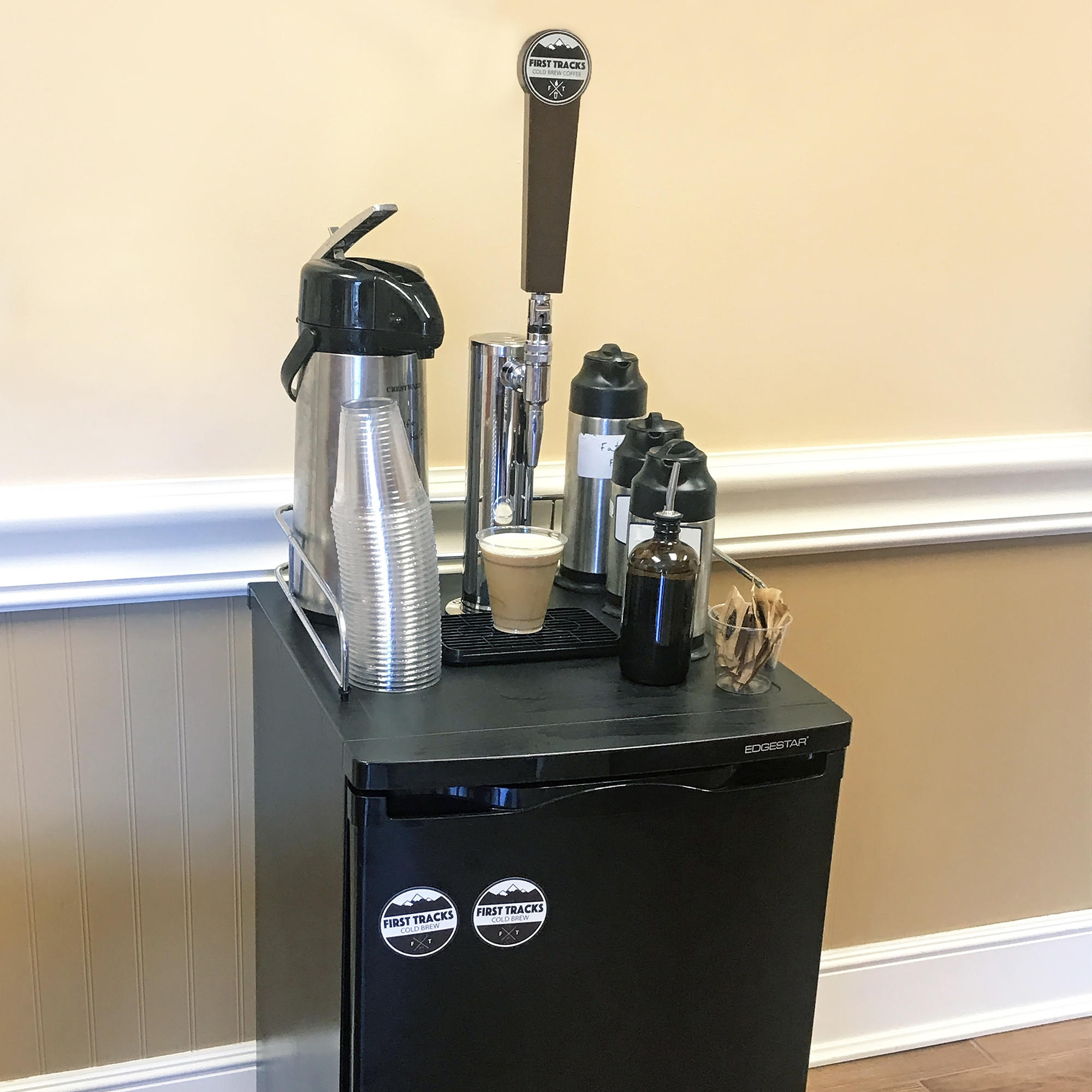 Enjoy Cold Brew at Your Event
Cold Brew for Events
Enjoy the smooth taste of nitro cold brew on tap at your event with First Tracks Cold Brew bar delivery service.
Employee Appreciations
Show employees your appreciation for their hard work with a keg of fresh cold brew for a day, week, or month!
All Hands Meetings
Welcome your team and increase productivity with a keg of First Tracks Cold Brew on tap for a special meeting.
Cold Brew at Weddings
Treat your guests to some delicious cold brew. If you love cold brew, this is a fun and unique way to welcome guests.
Special Marketing Events
Stand out at a conference or any other special marketing event by serving up creamy, smooth, never-bitter cold brew.
Any Special Gathering
Offer up cold brew on tap at any special gathering. It's easier and more convenient than hiring a coffee truck (and more affordable too).
Cold Brew Accoutrements
More than Just the Cold Brew
Cold Brew Kegerator
We'll provide the kegerator and taps (about the size of a small fridge) with the kegs already hooked up inside. Enjoy cold brew all day long.
Creamers
We'll provide half and half, oat milk, and a flavored non-dairy creamer which often goes along with the season such as pumpkin spice or peppermint.
Syrups
Our house made syrups also compliment the season if possible. In addition to simple syrup, you can expect hazelnut, vanilla, and seasonals as well.
All the Essentials
We highly encourage everyone to use reusable cups, but we will still provide you with all the essentials including cups, stir-sticks, and napkins.
Denver Cold Brew Keg Delivery Service
Why Choose First Tracks?
Smooth Taste
Our nitro cold brew keg pours oh so smooth cold brew coffee to get your day going or add some pep in your step to get through the afternoon.
Convenient Delivery
Order cold brew office delivery or get a cold brew keg for your special event. We drop it off and include all the attachments and accessories you need and then pick it up later.
Locally Roasted
We source locally roasted coffee beans from Denver's top coffee roasters. This results in fresh, never bitter cold brew kegs with a creamy, nitro head.
Join the First Tracks Cold Brew club!